The Advanced Ultrasonic Technology of NSK
VarioSurg is equipped with various advanced functions of ultrasonic bone surgery through it's specially-made engine.
The Feedback & Auto Tuning Function achieve high cutting efficiency through the automatic power control to exacting levels according to grinding surface.
The Burst Function generates the "hammer effect", which adds more powerful vibration to the vibrating tip, thus improving the ability to cut hard tissue.
Advantages
Power: superior cutting capability shortens treatment time
Minimally invasive: eliminates heat generation during bone dissection
Safe: avoids damage to soft tissue even during accidental contact
Precision: cavitations effect of irrigation solution keeps surgical site blood free
Comfortable Grip Handpiece
Superior ergonomics of the VarioSurg handpiece, including the slim and lightweight body, ensures minimal hand fatigue and greater accessibility to difficult oral regions. The twin LEDs integrated at the head allows for outstanding visibility, thus treatment is safer and precisely accurate. Oscillation at the tip of the handpiece due to advanced ultrasonics eliminates heat at the operation site, allowing for minimally invasive procedures.
Shorter and Lighter Handpiece
A shorter and lighter NSK LED handpiece is achieves a perfect balance. Surgical procedures are easier and stress free to help you provide more precise and efficient treatment.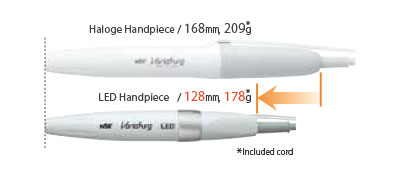 Feedback Function
Feedback Function constantly checks the performance parameters of the ultrasonic unit during operation.
Simultaneously it controls the power output, which enables to supply the power suited for bone cutting procedure.
Main Features
3 modes (SURG, ENDO, PERIO)
Burst Mode
9 programmes (SURG x 5, ENDO x 2, PERIO x 2)
Automatic Cleaning Mode
Ergonomic Handpiece (LED or Non-Optic)
Feedback Function
Auto Tuning Function